US CHIRIMESER TG-100
Self-driving
After putting in the garbage, the fire will be extinguished automatically.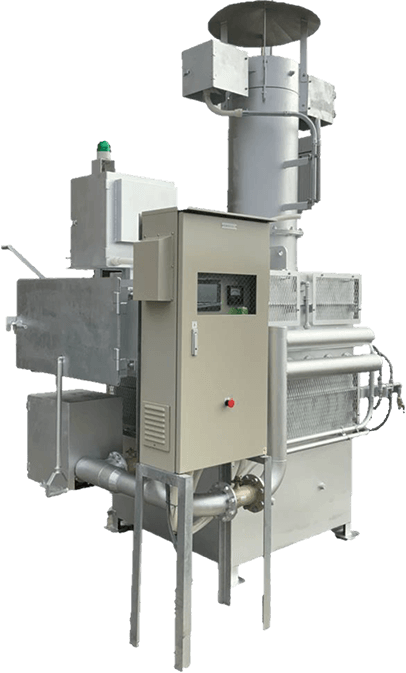 Major features
Combustion control by computer
Enter the combustion program according to the customer's request.
Maximum effect with minimum cost.
Aumost no smoke
No smoke is emitted even when the tires are incinerated alone.
Ultra low dioxin
The combustion temperature is automatically controlled, and dioxins are pyrolyzed at high temperatures!
Power supply is three-phase 200V ※2
Use kerosene as fuel
Tap water
It is used for combustion control in the incinerator. ※3
※1 The transition to the end stop operation is normally set in 30 minutes, but it can be changed according to the customer's usage environment.
※2 Requires a separate power supply (breaker)
※3 General tap water pressure is required
Ease of use and safety!
Patrol light turns on at the time of input
Notification will be made by turning on the patrol light.
Double door safety structure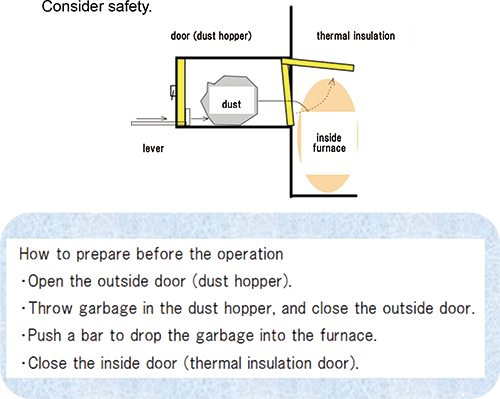 Do it from start to finish with push a button

Birth of "US Chirimeser" to solve garbage problem at US military base ❗️
Facility specification
Type
TG-100
Treatment capacity
Mixed garbage:  200 lb/h or less
Waste plastics: 44 lb/h or less
Furnace area
10.8 ft2
External dimensions
5.9 (width) x 8.1 (depth) x 12.5 (height) ft
Charge chute size
1.5 ´ 3.3 ft
Power supply
200 Vac
Electric capacity
2.0 kw
Fuel
Kerosene
Fuel consumption
4to20liters/h(depending on the content of refuse and feed amount)
Basic machine weight
7,496 lb
Refuse to be incinerated
General waste, raw garbage, waste tires, waste plastics, wood, etc.
Contact us
Thomas Technical Research Institute Co., Ltd.
5192-2,Katsurenhaebaru,Uruma,Okinawa,Japan
Phone: 098-989-5895
FAX: 098-989-5896