Thomas Technical Research Institute Customer Interview
October 2, 2020 (Monday)
Naminoue Shrine
Mr. Koshiro Sato
Naminoue Shrine is a shrine located on a hill overlooking Naha Port in Naha City, Okinawa Prefecture.
Known as "Nanmin" by the citizens of the prefecture,
the shrine is known to all the citizens of the prefecture because there are crowded with many people every New Year's first visit.
Naminoue Shrine is a historical shrine where the people of Okinawa (Ryukyu) used to pray as a place of worship at Naminoue Shrine, a sacred place where the people of Okinawa (Ryukyu) prayed for good harvest and peace to the gods of Nirai Kanai over the sea.
Currently, it is designated as a Shrines on the Special List (Beppyo Jinja) of the Association of Shinto Shrines.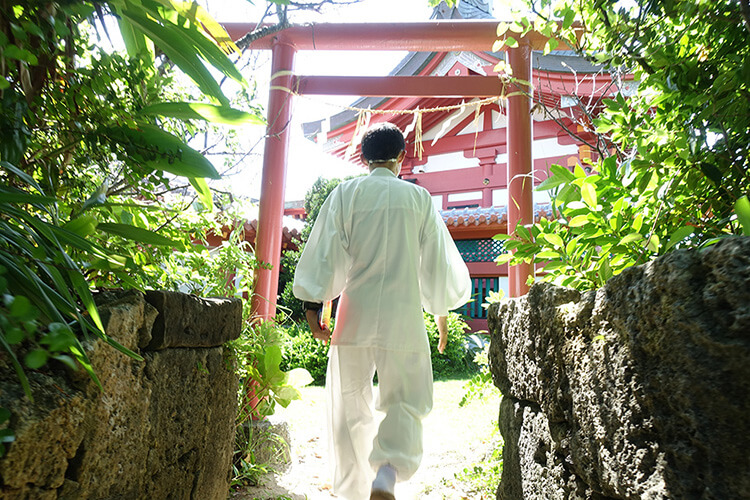 【Q】Please tell us about the situation before installing the small incinerator (hereinafter, Chirimeser) and the purpose of introduction.
I wasn't at Naminoue Shrine at that time, so I don't know the details, but I heard that the Chirimeser was installed in 2012.
When there was no incinerator, there seemed to be a lot of smoke and odors, and I think there was also an approach to environmental issues.
I heard that Thomas Technical Research Institute was introduced by Kanehide Construction, which was involved in the construction of the main shrine and the hall of worship.
At Naminoue Shrine, we use Chirimeser for "Otakiage"* and "Dondoyaki"*.
* "Otakiage" is the incineration of items that seem to have a soul and cannot be handled poorly by a priest at a shrine or temple.Mainly Buddhist altars, Ihai, Kamidana, amulets, letters, photographs, dolls, clothes, etc.
* "Dondoyaki" is the annual Shinto ritual of the First Full Moon Festival on January 15th every year. It is a Shinto ritual to pray for this year's disease-free life by burning lucky charms such as last year's bills, amulets, and New Year's decorations.
It is called "Dondo-yaki" because it burns more and more.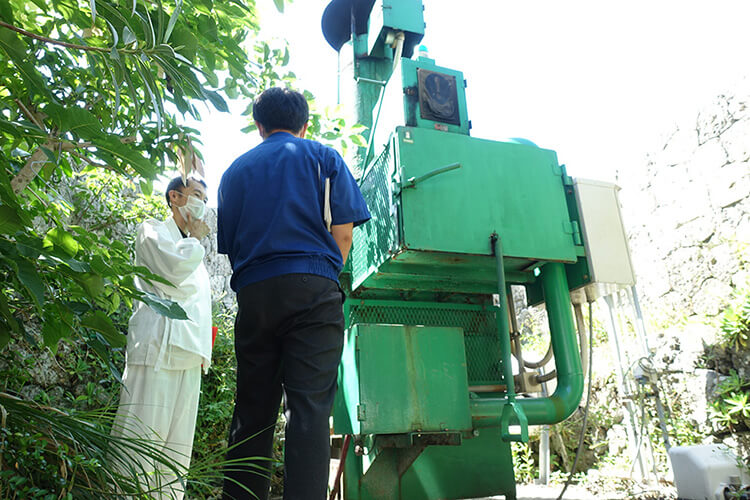 【Q】The sea is right in front of shrine, but is there any damage such as salt damage to Chirimeser?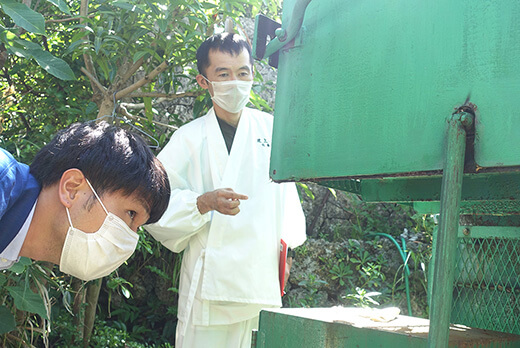 If the sea is so close, the effects of salt damage cannot be avoided.
Although it has been damaged by salt damage, it is protected from rust by painting and maintenance.Also, since repairs have been overlapping recently, I would be grateful if you could handle maintenance and other maintenance and inspections.
【Q】Please tell us your request to Thomas Technical Research Institute.
I would like to teach other staff the correct operation method, such as wiping the lens of the Chirimeser and adjusting the damper, so I would like you to provide a video manual etc.
Printed paper is fine, but the video is more easier to understand. If I can see it on my phone, it will be helpful because I can check wherever I want.
【Q】Please let us know if you have any news from Naminoue Shrine.

Naminoue Shrine accepts prayers such as weddings in front of the shrine, family safety, prosperous business, and prayers for safe delivery.
We cannot accept applications during the scheduled time for festivals and weddings, so please contact the Naminoue Shrine office in advance for confirmation.
【Comments from sales staff of Thomas】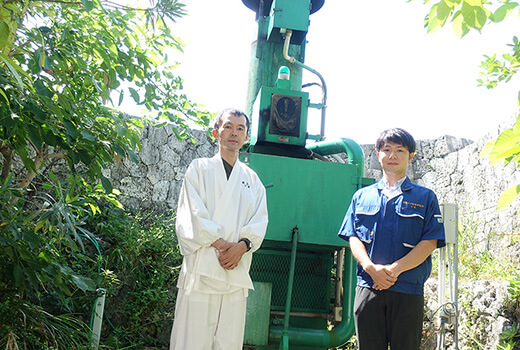 It has been used at Naminoue Shrine, which has been popular with the citizens of the prefecture for many years.
Mr. Sato, who is in charge, says, "There is no smoke and odor, so there is no need to worry about inconvenience to neighboring residents."
As we are the only manufacturer of small incinerators in Okinawa prefecture, we can respond immediately to maintenance of salt damage and other consumables by calling us.
We also provide maintenance and operation guidance so that it can serve as incinerator for Otakiage, so please feel free to contact us.